Vendim 10 snack vending machines are equipped with modern software which speeds up the entire maintenance process. Large storage capacity and low power consumption decrease operating costs.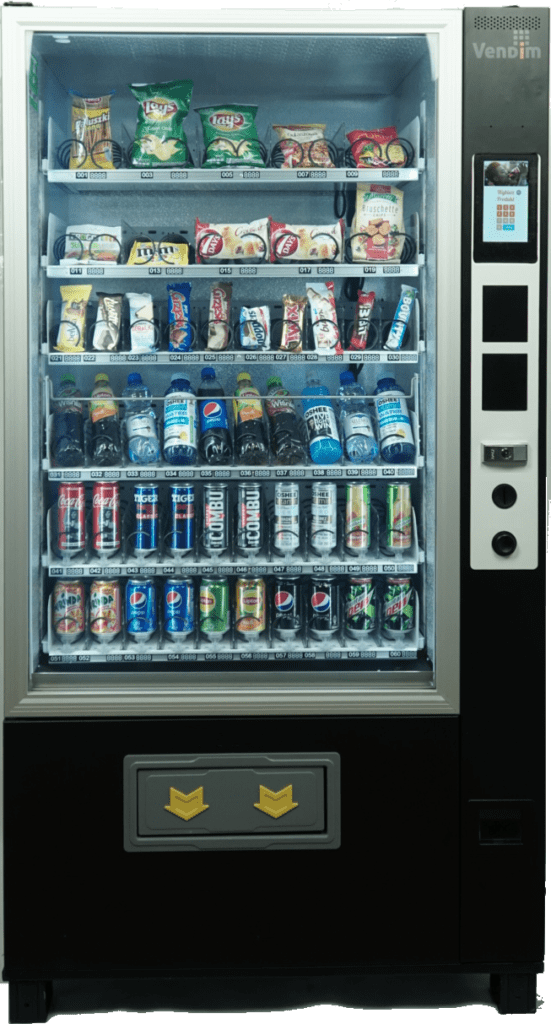 If you are looking for a vending machine suitable for any sort of environment, pick the Vendim 10. Its 7-inch touch screen, together with the Vendim Shop software, makes for a seamless experience that can be mastered even by customers who have never dealt with such devices. Its capacity of up to 900 products allows for offering a wide variety of goods. At the same time it limits the need for frequent machine restocking. The frame of the machine is designed such that the customer can easily see all the products.
efficient insulation maintains the optimal temperature of the machine's interior ( 5°C – 24°C ) with minimal power consumption

Embraco (R134A) compressor

designated holes at the base of the machine enable fixing it to an anchoring system, preventing anyone from moving or tilting the vending machine

infrared sensors ensure correct release of products

anti-theft lock ensures only authorised staff gets to access the machine's interior

Optional features

connection with V10 Slave machines and locker slave-type machines

WiFi / GSM module

monitoring

anti-burglary alarm (online / offline)
Technical details
The main technical details of our snack vending machines are the following:
• maximum number of possible product choices: 60 (spiral coils),
• capacity: up to 900 products,
• temperature: between 4°C and 25°C,
• dimensions: 1945 mm (height) x 850 mm (depth) x 1040 mm (width),
• weight: 365 kg,
• power supply: 100 – 240 V, 50/60 HZ.